40 years ago today: Bee Gees diary in Japan, March 1972 (Part 1)
Bee Gees at Shibuya Kokaido Hall, March 23, 1872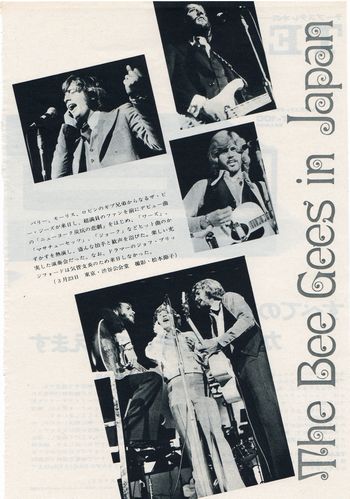 40 years ago today, the Bee Gees played at Budokan, Tokyo, as the second of the four concerts they played in Japan that year. They visited Japan as part of what is known as the Trafalgar Tour.  Actually, that is the one and only time for this fabulous trio of brothers to play at Budokan.  It was a chilly March night.  The opening act was Shiro Kishibe and Bread & Butter from Japan, probably because of their Tigers (or Polydor) connection.
To commemorate the 40th (!) anniversary of their first Japanese tour, we'll be doing a two-part piece about their 8-day stay in Japan.  (For our questionnaire last year, we had quite a few people requesting more information about their four Japanese tours. So here it is.)
Incidentally, the article on the right is not about their Budokan appearance, but about their very first concert from the evening before at Shibuya Kokaido Hall, probably from one of the two FM magazines, Weekly FM or FM Fan, available at that time. (After all this time we are not really sure which. We should have written on the back of the cutting where it was taken from.  A lesson learned too late as it so often happens in life.)
March 20 (Monday): At 21:04, the Bee Gees and their entourage including their father Hugh Gibb and Lulu, then Mrs. Maurice Gibb, arrived from Singapore on flight MSA640.
March 21 (Tuesday): A well-earned day off in Tokyo, dinner with promoters, etc.
March 22 (Wednesday) : Press conference at Tokyo Hilton (now no longer exists).  Polydor Japan presented them with the gold discs for the soundtrack for the film "Melody" which was a phenomenal hit in Japan in 1971.
According to tabloid reports of the press conference, the Bee Gees said that what they knew about Japan was "samurai" and a certain entertainment system where women wash men in the bath.
From 16:04, exclusive interview at Room 904 with Music Life magazine.
March 23 (Thursday): Concert at Shibuya Kokaido Hall. (Requested by Polydor Japan, they sang "Melody Fair," which they didn't sing in other countries during the Trafalgar tour.) <See "First Japan Tour, March 1972 for the set list.>
March 24 (Friday): Concert at Budokan.
March 25 (Saturday) : Concert at Osaka Festival Hall.  (Maurice and Alan Kendall played Led Zeppelin's "Whole Lotta Love" during the rehearsal.)
March 26 (Sunday) : Concert at Osaka Festival Hall.  (During the day Barry & Linda Gibb went shopping. Maurice, Lulu, and Robin watched the Four Leaves, then Japan's top boy band, playing at the Festival Hall.  During the Bee Gees concert in the evening, Maurice made the audience laugh by mimicking them onstage.)
March 27 (Monday):  Travelled back to Tokyo.
March 28 (Tuesday): At 6:00 a.m., the Bee Gees left their hotel to fly away to Kuala Lumpur on flight MSA 639 at 9:30.
The above diary is based on a Music Life article "Hello Bee Gees, Good-bye Bee Gees" by Masahiro Shioda, who was then in charge of the group at Polydor Japan, with bits and pieces of information added from newspaper and magazine reports.  In Part 2, we'll give you an overview of interviews and concert reviews from the March 1972 Japan tour.
<<<Follow us on Twitter: Bee_Gees_Days>>>