Robin Gibb "My Titanic Battle to Defeat Cancer" (Sunday Express, March 11, 2012)
Sunday Express, March 11, 2012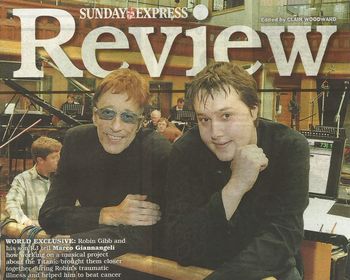 Sunday Express has a feature entitled "My Titanic battle to defeat cancer" (see the picture on the right) on Robin Gibb's "Titanic Requiem" in its March 11, 2012 issue.
You can read the online version of the article here.
Although there appears to be a slight confusion as to the chronological order of events, the article states that Robin started making plans for the Titanic Requiem in early summer of 2009 and was diagnosed with cancer a few months afterwards. (Actually, judging from other reports, it seems more likely that the first signs of the disease came to light following the surgery of twisted bowel in August 2010.)
RJ Gibb, who says he also loves the subject, speaks of his father's strong interest in history:
"One of my first memories was when I was six and we went to East Germany where the Bee Gees were touring. It was before the Wall came down and it was like moving from colour to a land of black and white. I remember Dad being absolutely fascinated. He took us around Berlin pointing out the bullet holes on the Reichstag from the Second World War."
Robin himself comments:
Everything I have ever done musically, from the Bee Gee days to now, has been about painting images with music. The Titanic requiem is exactly the same.
Robin and RJ are aided by arranger and co-producer Savvas Iosifidis, and the Requiem is performed by the Royal Philharmonic Orchestra. Tenor Mario Frangoulis is featured on "Daybreak" and chorister Isabel Suckling on "Christmas Day." Aled Jones will perform Frangoulis's role in concerts.
While Robin still undergoes treatments, he maintains that the worst is over. He started to become "more and more and tired and getting skinnier" in 2009, but when he started having chemotherapy and the results were good, he "opened up" to his family.
Robin says:
What I do and what I have done all these years, it's not a job, it's a love. I can't read or write music but the songs and the music come to me. Don't ask me where they come from because I don't know.
And he concludes that it was the love of his work and family that got him through the two dark years.
The Titanic Requiem is released on March 26 and will be performed in full as a concert at Central Hall, Westminster, London, on April 10. See here for ticket information.
"Robin Gibb: My Titanic Battle to Defeat Cancer" by Marco Giannangeli (March 11, 2012, Sunday Express)
<<<Follow us on Twitter: Bee_Gees_Days>>>