Barry Gibb's message for Japan's tsunami anniversary
Click to view the entire picture.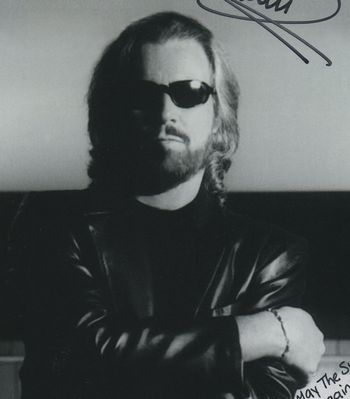 One year has passed. And we still have a long, long way to go.
Let us be brave. Let us be positive. And let us stay capable of doing what is needed for the earthquake/tsunami victims.
Barry Gibb has sent a message of support for our anniversary March 11.
Click the picture on the right to view the handwritten message by Barry in the lower right.
May the sun rise again for everyone in Japan for 2012
–Barry Gibb
Barry has also kindly given us the permission to publish on our website the lyrics of "Grey Ghost," a song written in 2006 that he dedicated to Japan last year. So we will put the lyrics on our website within the next few days.
This signed photo/message will be auctioned off during one of the fundraisers over here, or it may be used for a silent auction on this website. We will let you know soon. All the money thus raised will go to a charity organization for children who lost their parents by the earthquake/tsunami.
With such wonderful support from Barry and Robin, we hope we can do something for those who are in need. If you have any good idea, please let us know, too.
Robin also sent word this very morning that he will send personal message this week to his Japanese fans to reflect his feelings on this sad anniversary.
Thank you, Barry and Robin!
<<Follow us on Twitter: Bee_Gees_Days>>>