Barry Gibb heading for Australia again?: Bee Gees Way to be upgraded
Postcard commemorating
the Bee Gees Way opening Feb. 2013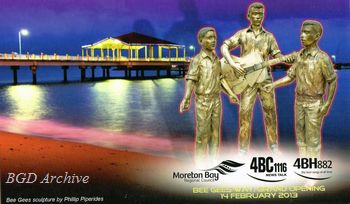 According to couriermail.com.au (online version dated July 29, 2014), the Bee Gees Way, the new tourist attraction in the quaint Redcliffe area, may be undergoing a major upgrade with Barry Gibb returning for another unveiling. With Barry Gibb tweeting, "What's going to happen in my home town Redcliffe is fantastic. Can't wait to go back! Love to Alan & Robert," (July 29) it seems the plan is certainly moving ahead.
The commemorative postcard (picture on the right) handed out at the February 2013 opening of the Bee Gees Way shows the sculpture of the young Bee Gees with the beautiful Redcliffe quay in the background. According to Barry, it was on that very quay that the brothers decided to dedicate their lives to music, and a ballpoint, "nicked from Woolworth" at the time might still be sleeping underwater among the pebbles and seaweeds out there for those who wish to fish the ultimate memorabilia of one of the most significant moments of the Bee Gees' remarkable history. Anyone?
The sculpture as well as the walkway which features photographs tracing back the history of the Gibb brothers, was unveiled on February 14, 2014 by Barry Gibb and family.
The courriermail article reports that the walkway has been a "boon for the local business" and Moreton Bay Regional Council mayor has confirmed Stage II of Bee Gees Way "will go ahead at a cost of $2 million. Barry Gibb who has always called Australia and Queensland his "homeland" is reportedly helping with the creative process for the upgrade. The Stage II will supposedly be completed in February or March next year, and, while work goes on, Bee Gees Way will be closed for 3 months.
<<<Follow us on Twitter for updates: Bee_Gees_Days>>>