A thought on 50-year-old Bee Gees song 'World' – and how it of course still rains every day
Full page ad for 'World' by Bee Gees from New Musical Express
(Issue November 25, 1967)
<Click to enlarge>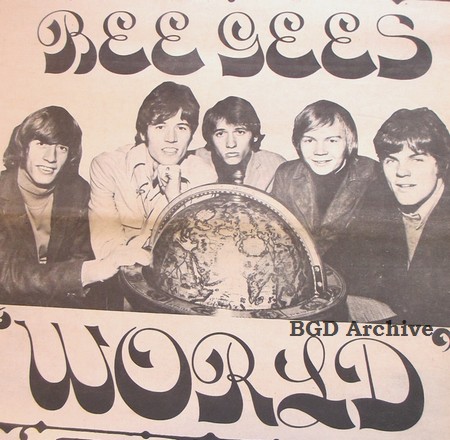 In November 1967, the Bee Gees released the enigmatic 'World' as the follow-up single to their first U.K. No. 1, 'Massachusetts.'
A top 10 hit in the U.K., 'World' went all the way to No. 1 in some parts of Europe. It was one of the staples of their concerts during the late '60s and early '70s. The trouble with the Bee Gees was that they had so many hits that they could even bring out a compilation album called "Number Ones." So, 'World' eventually fell out of their later set lits, but the fans, and the world for that matter, continue to love the song. In 2014, Rolling Stone chose the song among its "13 Essential Barry Gibb tracks."
Here is an excerpt from a short interview Maurice Gibb, Colin Petersen, and Vince Melouney gave to a British teen magazine shortly before the release of 'World.'
Vince and Colin arrive and we start talking. Maurice tells me that he and his brothers, Barry and Robin write the songs. I'm disappointed to find that there is no special mood they have to be in for a song to come into their heads. Maruce tells me how it all happnes. "We arrive at the studio and begin. No sitting around a table and talking. It comes there or not at all. I usually use a piano to help with the "sound" of the whole number. I don't have anything to do with the lyrics; pure music is my line."
Between them they have written loads of songs. Not all have wben recorded, tough! Some of the talented people that have recorded their numbers are: Bobby Darin, Lulu, Unit 4 + 2, The Terms, Billy J. Kramer and Gerry Marsden. That's quite a line up! Yet when they left Australia in Decemer they meant nothing to us in Britain, and had only just hit the No. 1 spot in Australia.
The boys arrived in Britain in January. They went straight by tube to Colin's house with Maurice carryng a sitar! No contracts, nothing! Then they met up with Robert Stigwood, now their manager, and the whole scene started to happen for them.
Already, they have a fast selling LP out with the most startling cover. Most people would call it psychedelic. The boys disagree. They just call it "abstract."
Maurice is looking rather super sitting opposite me wearing a pair of patterned trousers and a floral shirt with a waistcoat, Sonny style, over it. I remember their weird gear on TV the other night and ask him his opinon of flower power.
"It's a business!" he replies with a grin. "Of course, the idea is good, but there is so much commercialisation happening that the movement is dying a sad death. Bells being sold in Carnaby Street … ugh! When we went to The States in January flower power hadn't really begun there, but when we came back the flowers had started to grow. Naturally, there was nothing like this hitting the Australian scene when we left, but I guess flower power is there now as well."
The boys visited the home of flower power, The States in July.
"America is great," The Bee Gees all agree. "We were treated like gods over there, it really was a knock-out. Funny, when American groups come here the kids seem to respect them. But when British groups go to The States, the kids go real wild! We like America very much, but it's untrue that Massachusetts was geared for their market. We were just footling about and we thought that it would be fun to record a number like Engelbert or Tom Jones. After all they do get the No. 1's. That's how Massachusetts came about. We sat on the demo about three months and actually never wanted really to record the song. But then Robert, our manager, said it was the disc for us and we must record it. He was right."
I ask the boys if they would buy Massachusetts themselves. They all say "No!" It's just not the kind of music they like.
What about the verse with San Francisco in it? Was that for the flower power movement?
"Well, yes, you might say that. But the disc was meant to be a commercial proposition, and it paid off! But we are much more thrilled about World, our latest disc, which isn't released yet. Now that is great. A lot more work went into it than into Massachusetts."
At this moment in sleuths Robin. He wears sunshine coloured glasses. He sits on the window ledge and looks out at all passers by. He seems very happy to look out of the window. Perhap with those coloured glasses he thinks it's a nice sunny day. The four of us carry on talking. Colin and Vince say they asre very glad that they can now stay in England. I say so are their fans.
Robin is no longer looking out of the window. He is getting up and going! The door has only just closed, when POW! in comes Barry, in a fabulous silver fox coat. All 6 ft. 1 in of him. What a knock out! I stand up and shake his hand. Ouch! I forget that I'm a girl! Girls don't stand up when men come in the room. It's the other way round.
Barry can't stay a minute. They wre all meant to be at a photo session down the road half-an-hour ago, he tells me. Ooooops–I've overstayed my welcome and I should be getting back to the office, anyway!
How time flies when you asre with people you like!
— Sally Cork
(From "Simple sounds of the Bee Gees," Fabulous 208 Music Makers – November 11, 1967)
There are inaccuracies in this article and chronological confusion. The Bee Gees are even referred to as "an Aussie band." However, in hindsight, it is interesting to read how they dismissed the "commercial" 'Massachusetts' in favor of the soon-to-be-released 'World.'
'Massachusetts,' of course, remained one of their best loved songs of all time and the Bee Gees themselves eventually gave the song due credit. In 2011, soon after the Great Northeastern Earthquake and Tsunami, we asked Barry and Robin what songs they would choose to sing if they were to perform at a charity concert for Japan, and 'Massachusetts' was one of Robin's choices. (You can read about it here.)
We are now coming to the end of September that has kept us perturbed by rain, storm, and military threats around the world. All the while we kept finding ourselves listening and re-listening to 'World.'
And it was by no chance that we had this exchange with Samantha Gibb:
BGD: Whenever a disaster happens, I always think of the words to the 1967 song 'World' – "And, of course, it rains every day." Rain can mean a lot of things, war, sadness, losses…but in this case it really is rain in your part of the world. And in ours, it could be the nuclear rain. It seems that, half a century after the song was written, the mankind has not gotten any wiser.
Samantha: I couldn't agree with you more on that song. It's so scary, all the things going on in our world right now. Trying to put out positive energy for the future.
'World' is one of the most visionary songs by this talented trio of songwriters. And the 50-year-old interview quoted above proves that a lot of work went into it. It contemplates the evil or sadness in the world, but by saying 'And of course it rains every day,' the young Bee Gees seemed to embrace the world and life as it is, and leave you with an inexplicably positive feeling of acceptance and of hope for tomorrow. There is also a tinge of sadness…as is the way with the world and life. How could we not love this youthful vision?
Now I found that the world is round
And of course it rains every day
Living tomorrow where in the world will I be?
Tomorrow, how far am I able to see?
from 'World' (1967) by the Bee Gees
{September 2017 – Bee Gees Days}