Latest news from Robin Gibb's family: The head stone will be placed this summer
Maxwell-Robin, Robin Gibb's "first grandchild" with a serious look on his face when Santa Claus visited on Christmas Day (Christmas 2013)
Photo: Courtesy of Dwina Gibb
<Click to enlarge>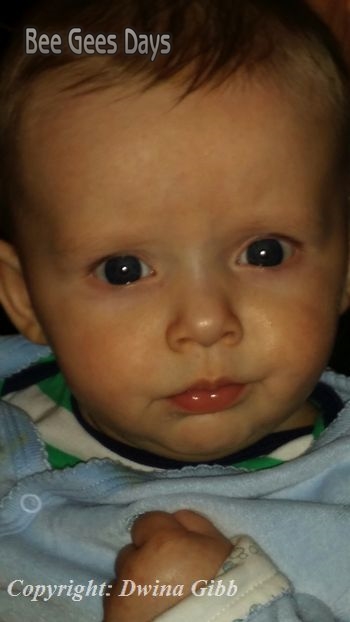 Japan suffered from exceptionally severe wintry weather this year, but with the month of March approaching, flowers are starting to bloom. On a fine February day with a promise of spring in the air, we received the latest update from Robin Gibb's family in Oxfordshire.
We were also sent adorable photos of Robin's "first grandchild," Maxwell-Robin who was born in July last year. According to Dwina Gibb, he looks a lot like his father RJ, but in the photo on the right we seem to see a bit of Robin in him, too. The photo shows Maxwell looking serious on Christmas Day when Santa Claus visited. Dwina told us that he is "a very contented and happy baby and has cut his first tooth."
As for Robin's head stone to be placed in St. Mary's church, Dwina Gibb told us the following:
A special ancient stone from a mountain mine in Wales has been chosen for Robin's grave stone. It is being hand-carved by a wonderful award-winning stone-carver called Martin Cook. We have had to wait for a long time for the ground to settle as there are nine layers of graves below. St. Mary's Church is almost a thousand years old, and we had very serious weather conditions this winter in Oxfordshire, which further affected The Prebendal and the lands around Thame. The stone will be erected this summer. I had hoped to have it done by the Anniversary in May, but it is very special and a lot of time, effort, design and planning has gone into it. It should be ready by the Summer.
She also let us know about her Irish play "Last Confessions of a Scallywag," which was shown in London last summer. Now they are going to play it at a dinner theater in Sonning on Thames:
Dates: July 31 – August 24; September 5 – September 27, 2014
Place: The Mill at Sonning Dinner Theatre
Tickets: Book online at the theater website or call Box Office UK: Reading ( 0118) 969 8000
The play will be directed by Sarah Jane Berger. Sally Hughes, the managing director of The Mill at Sonning Dinner Theatre, said it was one of the funniest plays she had read in 30 years.
About RJ and his musical activities:
RJ is currently working on his own album of pop music (as yet untitled) and a World War I Memoriam. He has written some beautiful melodies and lyrics,
and is currently singing and recording in his own studio and a studio in London. He expects to finish both this year.
Last but not least let us share another adorable photo of little Maxwell taken on the New Year's Day 2013.
Maxwell-Robin (December 31, 2013)
Photo: Courtesy of Dwina Gibb
<Click to enlarge>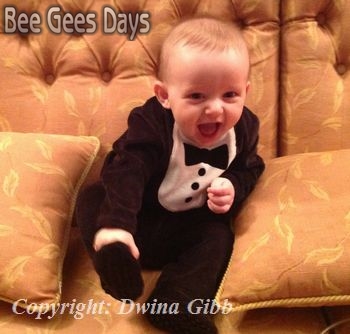 (Thanks: Dwina Gibb)
<<<Follow us on Twitter for updates: Bee_Gees_Days>>>