Barry Gibb on Late Night with Jimmy Fallon
Barry Gibb singing "To Love Somebody"
on Late Night with Jimmy Fallon
(January 27, 2014)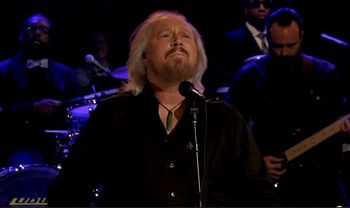 Barry Gibb is setting out to promote the American Tour! On 27th he appeared on Late Night with Jimmy Fallon in New York.
The show's website shares the exclusive web clip of Barry singing To Love Somebody.
We also noted one of the comments left on the website by the fans rather interesting as it is about Japan:
My parents partied with the Bee Gees in Japan in the 70s. Seriously, this is not a made up story! My dad was in the airforce then. His best friend was dating the woman who coordinated all of the concerts that came to the local venues, including the Bee Gees. My parents and my dad's best friend got back stage passes, that led to being invited to the hotel room the band was staying at. Other than getting unbelievably high, my parents say what they remember the most is the brothers freaking out over the nudity allowed on Japanese tv! Such an awesome part of my family's history!
This reminded me of how excited Robin was about Japanese TV back then. He said it was really incredible, so I asked him what was so incredible; and he told me women showing their breasts would not have been allowed in his native England. Oh, really? (I didn't know that until he told me. I never watched those "late night" shows that Robin described to me! I swear!)
<<<Follow us on Twitter: Bee_Gees_Days>>>