Preparation under way at Prebendal for Blue Plaque Unveiling for Robin Gibb
Robin Gibb with The Heritage Foundation Chairman David Grahame (July 18, 2010) Photo: Courtesy of Heritage Foundation)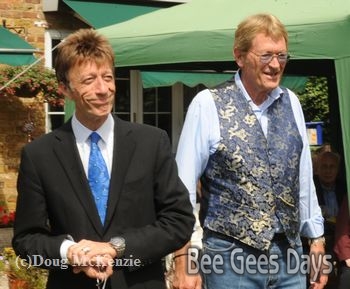 The Blue Plaque in honor of Robin Gibb will be unveiled at 2:00 p.m. this coming Sunday, September 30 at Prebendal, Thame by Dwina, RJ and Melissa Gibb with the Mayor of Thame.
Robin was the President of the Heritage Foundation, which organized this event, from 2008 to 2011. Chairman and friend David Grahame was quoted as saying:
"He was so down to earth and normal and really enthusiastic.
"It's a personal thing for me. He was a great bloke to get on with and I owe him a great deal and so do a lot of people in the country.
"He was a great songwriter and performer. We wouldn't have normally done it this early – it is one of our quickest plaques – but it's a chance for the fans who are coming from all over the world. The measure of a man's life is what he has achieved. Robin has achieved so much in life it was immeasurable."
(BBC News, online version dated August 7, 2012)
The Afternoon Tea following the unveiling will feature a selection of individually chosen pieces relating to Robin and tributes from a selection of friends from the music industry and beyond.
Net profits of this event will go to The Bomber Command Memorial Maintenance Appeal Fund. Barry Gibb will not be able to attend this event.
(Thanks: The Heritage Foundation)
<<<Follow us on Twitter: Bee_Gees_Days>>>