Robin Gibb's solo album update
Japanese version of "Robin's Reign" (released 1970)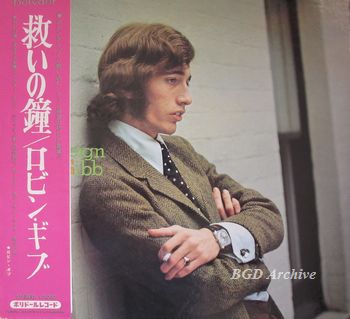 Due to technical trouble, we haven't been able to update the website. So this is sort of old news, but Robin Gibb's solo album will probably be a 2013 release.
So, instead, we have uploaded the Japanese version of Robin's first solo album on the right.
Back then it was not that uncommon for Japanese releases to have different sleeves ("First" "Horizontal" and "Idea (back)" are some of the examples).
"Robin's Reign" that came out in 1970 also had a different sleeve photo. While the versions elsewhere showed Robin in a red military uniform, the Japanese version featured this 1968 photo of Robin (just before his hair got too long for Stigwood to like!). It is quite pretty with its overall color scheme of green, where the "obi" and the letter G in "Robin's Reign Robin Gibb" stand out in pink.
As this album was available in Japan for only a very short period of time, the version complete with this pink obi is rather rare and coveted by collectors and fans. Hopefully, if and when they decide to re-release the Bee Gees' albums and solo albums, they will opt for this much sought after Japanese version.
<<<Follow us on Twitter: Bee_Gees_Days>>>