{March 1972} Bee Gees arriving in and leaving Japan
The "historical" moment of the Bee Gees goint through the Arrival gate at Tokyo International Airport
On March 28, 1972, after a hectic week-long stay in Japan, the Bee Gees left for Kuala Lumpur, next stop of their 1972 Trafalgar tour.
Back then there were no digital cameras or iPhones. Even cameras with flashlights were mostly out of reach of their then mainly teenage fan base. So please be warned that most of the photos taken during the tour, in particular, the indoor shots of their late evening arrival in Japan, were rather blurry.
From top to bottom, the photos are:
March 20, 1972 –
The first glimpse the fans caught of the Bee Gees walking through the Arrival gate at Haneda (Tokyo) International Airport
"  - Barry accepting flowers at the airport lobby
" – Maurice accepting flowers at the airport lobby
March 28, 1972 – Maurice and Lulu arriving at the airport to fly away to Kuala Lumpur
" – Maurice at the airport
" – Robin signing an autograph at the airport
After almost half a century, the photos are more than a little faded, but not the memories.
Read more about the 1972 tour here.
{Bee Gees Days}
Barry accepting flowers
Maurice with his bouquet of flowers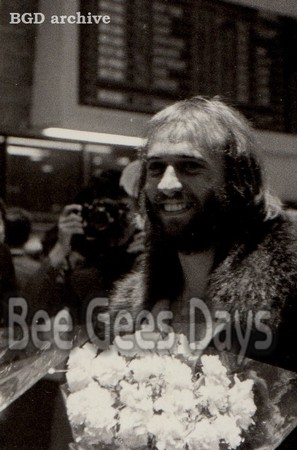 Lulu and Maurice at the airport flying away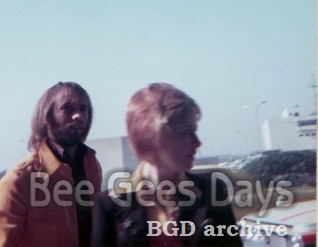 Maurice at the airport on the last day of the '72 Japan tour
Robin signing an autograph on the last day at the airport