Barry Gibb singing 'End of the Rainbow'
Barry Gibb doing a truly heartfelt rendition of 'End of the Rainbow'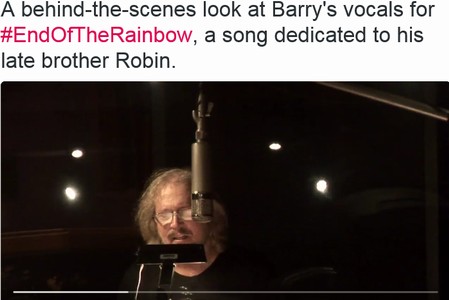 Studio footage of Barry Gibb singing "End of the Rainbow," arguably one of the most moving songs on the "In the Now" album, is now available to view at this link.
While the Japanese and the international deluxe editions have 15 tracks respectively with the addition of 3 bonus tracks, the original "In the Now" album consists of 12 songs, making 'End of the Rainbow' its closing track.
It is in effect an answer song to Robin's 'Sydney,' the poignant closing track of his posthumously released album "50 St. Catherine's Drive," in which Robin sang of the young three brothers' oath to "do it or die." Barry looks back on their Australian days and sings that they have reached the end of the rainbow and found the treasure, pot of gold, or fame or whatever it was that they had set out to achieve.
Barry said in an interview that the song is so personal that it would be hard for him to sing it onstage, but this behind-the-scenes look gives us the rare opportunity of seeing him singing it, albeit briefly.
{BGD – November 2016}